02 October 2021
October 2, 2021:
Inauguration of Milk Processing Unit with commercial Dairy Production.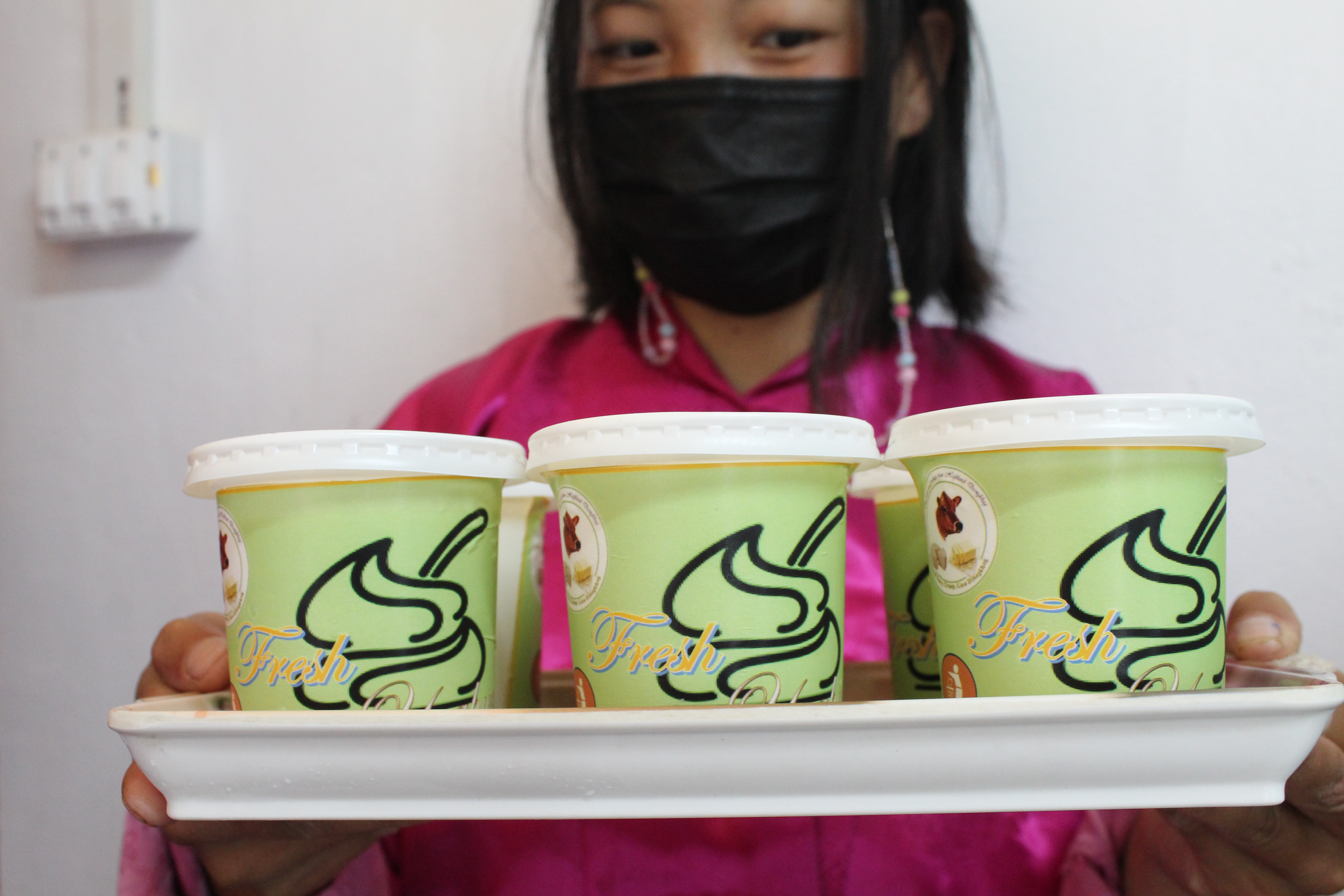 The Khamoed Dairy Group and a Milk Processing Unit at Damji, Khamoed gewog with support from the dzongkhag livestock sector ventured into processing dairy products like yoghurt, curd, butter and cheese, which is the first of its kind in the dzongkhag.
The milk processing unit is operated by a group with the objectives to establish organized marketing for clean and fresh dairy products from the gewog, boost the local economy and generate employment through community engagement.
The dairy group and milk processing centre was established with the financial support of the RGoB fund from Dzongkhag and technical assistance from the Department of Livestock, National Dairy Research and Development Centre, and Regional Livestock Development Centre.
The milk processing unit operated by the group produce 300-350 cups of yoghurt daily, with 75 litres of milk and has capacity of processing 700 cups of yoghurt. Other dairy products are processed based on demand. The yoghurt will be delivered to Bjishong Central School for the daily feeding programme, and the group plans to supply products to Gasa Primary school, Locals of Gasa and Gasa Rabdhay. The group is also impatient to serve the visitors of Tsachu, which is yet to be rebuilt. Once production is optimized, the group plans to export the products to other dzongkhags and to process soft cheese (paneer) and Syrup filled roll (rasgulla) in future to offer multiple options to consumers.
The inauguration ceremony was graced by Hon'ble Dasho Dzongdag, Lopen Umze of Gasa Rabdhay, Officer in commandant of police, Officiating Secretary General of Bhutan Olympic Committee, Sector heads and Regional heads of the Dzongkhag. The Dasho congratulated for such initiatives and interest displayed by the farmers of Khamoed gewog. He also said that the processing unit would have direct benefits for farmers and local consumers. He said, "Farmers will have a ready market for the sale of milk, quality local products to consumers, fresh yoghurt for school children and monks at a concessional rate".
The sales outlet is located above Punakha-Gasa highway near Sanam Tshongkhang of Khamaed gewog which is 2km away towards Gasa from Damji satellite town.